What if a recession isn't on the horizon for the US? What if the United States economy could chug along for another two, five or ten years without a recession? It's possible. I don't really think it's likely, but it's possible.
Did you know Australia hasn't had a recession in nearly 30 years? Could that happen here?
The US economy is currently in its longest expansion in history, having grown without a recession for the last decade. And, although GDP growth remains somewhat tepid, by historic growth standards for the US, it is still growing.
And, many believe the lower growth rate, around 2%, is largely driven by demographics that are hard to fight, regardless of fiscal or monetary policy. The largest generation in our history, the Baby Boomers, are moving into their later years, which changes the economic footprint they leave behind. And, our population isn't growing as much as it has historically, so the next cycle of such a large work force – the millennials – are only now entering their prime earning (and spending) years. And, since 70% of our economy is driven by consumption, we may be in for a longer period of lower growth than we're used to.
Could the current mix of an accommodative monetary policy from the Federal Reserve, with historically low interest rates, and large balance sheet, along with full employment, corporate profits and nominal wage growth, all without the bite of inflationary pressures, last indefinitely?
There's a saying that economic expansions don't die of old age. There's usually a shock to the system that pushes the economic needle towards recession. Could we have finally gotten better at avoiding or managing those shocks?
The US China Trade War may be more of a low voltage pulse, than an outright shock. At least so far. And, if the current momentum towards negotiating a Phase One deal remains intact, which seems to vary by the day, that would certainly help ease the pain. And, if a deal is reached, it could provide a decently sized positive wave throughout our economy.
According to Chris Williamson Chief Business Economist at IHS Markit (https://ihsmarkit.com/research-analysis/us-flash-pmi-hits-four-month-high-nov19.html) "their Flash Composite PMI ™ signals the fastest growth for four months (although the fourth quarter still looks to be weak). Factories report the largest rise in production this year, and services growth lifts from near ten-year lows, and there were net job gains after two months of losses."
If the US and China can find common ground on a trade deal, maybe that would spark another sustained uptick in economic activity.
On the monetary policy front, the Fed announced at their last meeting, their third rate cut this year. And, although they appear to be prepping the markets for a pause in rate cuts, it seems they are ready to act as needed. And, they are working to do so preemptively, vs. after it may be too late. As they say, being "data dependent" in their analysis of which steps to take next.
Another tool they recently returned to is growing their balance sheet again. They're reinvesting proceeds of sales, rather than just letting them roll off and shrinking their balance sheet. They're primarily focused on the short end of the curve now, vs. the longer end, but as you can see in the chart below, the increase in their holdings since September is pretty significant. Some might call it QE4 or QE light. Others note that it's the same practice they employed before the Great Recession, to maintain their balance sheet size. But, their balance sheet is just five times larger now than it was in 2008.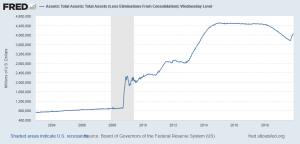 Could all those factors, among others, continue to drive economic growth well through 2020 and beyond? It's certainly possible.
On the other hand, it was only about three months ago, when the yield curve inverted (when the 2-yr treasury yield was higher than the 10-yr treasury yield) which many consider is a symptom of economic softening that often points to a recession within a relatively short period of time (12-24 months, typically). And, a recession may still be in our near-term future, but what if it's not?
Could we continue bouncing around with low, but positive economic growth, equities chugging to new highs, and mortgage rates and treasury yields hovering near historic lows for years to come?
I guess we'll find out as we roll into the Holidays, and turn the corner into 2020.
I'll do my best to keep you posted as things develop.
In the meantime, if you, your family or friends are looking to buy or refinance and have questions about home mortgage rates, or any other real estate financing, I hope you won't hesitate to reach out.
Best wishes to you and yours for a terrific Thanksgiving. I continue to be amazed by how much I can be thankful for.
Here's where rates started this week.
Cheers!
E
Conforming
Rates
Points
APR
Loan Amt
Payment
30 yr fixed mortgage
3.625%
0
3.675%
 $   300,000.00
 $          1,368
15 yr fixed mortgage
3.250%
0
3.300%
 $   300,000.00
 $          2,108
5/1 ARM
3.375%
0
3.625%
 $   300,000.00
 $          1,326
10/1 ARM
4.125%
0
4.175%
 $   300,000.00
 $          1,454
Jumbo (ask me about Super Conforming limit, per your zip code)
30 yr fixed mortgage
4.125%
0
4.155%
 $    555,000.00
 $         2,690
15 yr fixed mortgage
3.875%
0
3.905%
 $    555,000.00
 $          4,071
5/1 ARM
3.375%
0
3.405%
 $    555,000.00
 $          2,454
10/1 ARM
3.750%
0
3.780%
 $    555,000.00
 $          2,570
Rates subject to change without notice.
Please keep in mind, these rates and statistics are for informational purposes only to give you a sense of market movement and my opinion as to why.  Although these rates exist today, based on certain qualifying characteristics (760+ fico, owner occupied SFR with 75% loan to value ratio or less and $250,000+ loan amount), your scenario may allow for lower or higher interest rates.  Licensed by the CA Dept of Real Estate, #01760965.  NMLS: 239756.  Equal Opportunity Housing Lender.  If you'd like to be removed from this list, please reply with REMOVE in the subject line.  You can also use this link, mailto:eric@ezmortgages.us and add REMOVE to the subject line.  To add someone who would appreciate this information, send me their email with SUBSCRIBE as subject.
Eric Grathwol
Broker
EZ Mortgages, Inc.
4535 Missouri Flat Rd. Ste. 2E
Placerville, CA 95667
Office: 530-303-3643
Cell: 916-223-4235
Fax: 530-237-5800
NMLS: 239756
www.ezmortgages.us